---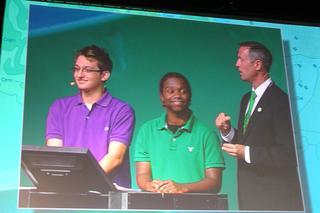 In July, Eric Cromwell, Coordinator of Accelerated Learning Programs, Jacqueline Smith, science department chair at Joppatowne High School, and two Joppatowne High School students, Joey Hightower and Matt Kelly, described their Geographic Information Systems (GIS) adventures to more than 10,000 GIS users at the International Users Conference in San Diego, CA. Governor Martin O'Malley was in attendance. The presentation team was able to meet with the Governor before the presentation and on stage afterwards. A video of the presentation can be found here.
Joey and Matt described their development as GIS users learning basic skills of layout creation, buffering, and changing coordinate systems. Soon they were creating their own shapefiles of crimes in their county. Matt entered the map in the Towson University GIS Conference and won first place. 
"The cool thing is the enthusiasm students have to work on their projects," noted Jackie. "They would get passes out of their scheduled classes to come to my room and work – not because they were behind, but because they wanted to do more – they wanted to get ahead. Students often will work past the end of the school day." 
The end of the year project goal was to analyze the local elementary districts, anticipate population growth, and recommend the best location for a new elementary school in their town. Students presented their findings to the local council. This project was the students' last step toward earning their Spatial Technology and Remote Sensing certification through Digital Quest. This certification is recognized by National Aeronautics and Space Administration (NASA) and the U.S. Department of Labor. 
The spark that ignited this program happened several years ago. Eric had a chance encounter with a local engineer/GIS user several years ago who showed him how to use GIS in the classroom to study local birds. Once he was given a copy of the GIS software and a county dataset, Eric was hooked. Eric began using GIS in his environmental science classes. 
Eric then mentored Jackie. She had seen a GIS project and, even though she didn't know how to use the software herself, was so enthused that she incorporated a GIS component into the school's career path program. Eric visited Jackie and offered his services to Geomentor her and the class. With this support, Jackie felt confident to begin a GIS class of 16 students. Eric visited the class once a week to do technical troubleshooting and provide GIS knowledge guidance.